We are part of the Power Flush Association, we and our member companies operate in all of the UK and Ireland. If you need a competitive price on a power flush, anywhere in the UK or Ireland, contact us now.
Areas we cover: London, Essex, Kent, Buckinghamshire, Cambridgeshire, Northants, Suffolk, Norfolk, Warwickshire, Hertfordshire, Oxfordshire, Wiltshire, Gloucestershire, Middlesex, Berkshire, Hampshire, Surrey, West Sussex, East Sussex.

Over time your central heating system can become that restricted or blocked, which diminishes the flow to your radiators. Having a professional power flush, can solve many sludge related problems and improve your system's circulation and efficiency. Power flushing can also help prevent future problems like: leaking radiators, rusty radiators and even help reduce energy bills.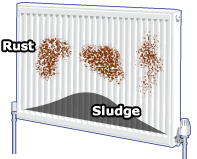 See our prices HERE they are some of the cheapest around
- We specialise in "sludge flake" removal. Having sludge flakes in your system is the most common reason for needing a power flush, because the flakes are large they easily clog up your system and parts on it, like pumps. Removing these flakes is a specialist procedure in which we have lots of experience.
- We use a light-commercial power flush machine with powerful magnets to clean and filter the central heating system pipe work and radiators.
-We are gas safe register
-We have 5 million public liability insurance
-We are cheap, fast, clean and reliable
-We now offer power flushing insurance as an optional extra. If you need a power flush within 3 years of having one done by us, we will redo the flush for free.